Jurassic World: Dominion Dominates Fandom Wikis - The Loop
Play Sound
Kuzco Academy



The front view of the academy.

Placed in
Inca domains
Description
School
First seen
Rabbit Face
Last seen
Graduation Groove
Kuzco Academy is a school placed in the Inca empire. It works as a garten, primary school, secondary school, and high school. Kuzco is demanded back to the high school again to learn how to governate better a few time after he becomes Emperor, and Kuzco Academy recieves him. There, Kuzco has to pass over various tests of intelligence, bravery, humilty, and teamwork, so that he can pass and become emperor again. Kuzco Academy is a first appearence of The Emperor's New School.
Educators
Courses
Kuzcogarten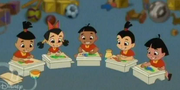 The course for young children, it was seen at the episode of same name. Students do lighter activities, such as finger painting, stake sculpturing, ball games, and origami. There is also a nap time, where children can take some rest from their daily activities. Students must follow rules like being respectful to each other or no telling. When someone has a good behavior, they can get a cookie.
Known Students:
Primary School
It was never seen onscreen, but mentioned in Faking the Grade.
Secondary School
There's likely a secondary school, since there is the primary, but it was never mentioned. it has been called a frew times Known Students:
Anybody student is known in this class.
High School
The ambient where The Emperor's New School takes place in most of its plot, it's where Kuzco, Malina, Kronk and the other teenage students recieve lessons. It's a typical high school, with a lot of variated learning locations, but it seems to have only one teacher to most of the subjects. The K. A. high school is more of "Kuzco Academy" than any other course. It isn't known if there is more than one high school grade, but other ones were never mentioned in any episode.
Known Students:
Trivia